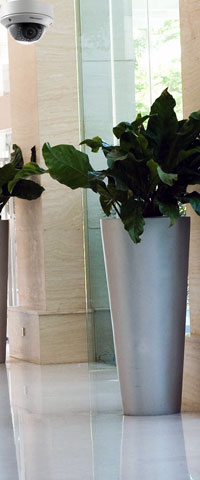 Sydney Security Company has been a trusted outsource for corporate buildings looking for a reliable security maintenance and replacement surveillance provider. We not only maintain foyer and lift CCTV, but also understand the structural composition of office buildings to effectively install security systems for individual office tenants.
When it comes to building security, there are numerous factors involved to make your security plan work, whether you need professional guard hire, emergency exit installation or audits, back to base monitoring, central alarm, proximity reader access or the latest CCTV surveillance equipment within lifts and public areas, we've got you covered.

Examples of the main security threats your office building may experience are:
unauthorized access to private areas, suspicious deliveries or persons in foyer, unauthorized personnel, equipment or staff theft, deliberate damage to building structures or lifts, vandalism, unforeseen OH&S accidents, unforeseen public liability incidences, fire, chemical hazards, threatening visitors or tenants, unexpected violence and/or assaults.
There are five main security areas that your office building and lifts may need to look at closely and consider implementing at your business location.
Ready to discuss your office building and lifts security options? Call (02) 8003 3356
Speak to one of our professional business consultants today. We're ready to take your call between 9am – 9pm weekdays.
Real prices and security package examples of what we have installed for our office building and lift customers.
Typical security installation plan involves the following:
[floorplan coming soon]
Security Components:
As a leading surveillance security supplier, our technicians are adept in recommending the most proficient system for corporate and office structures.
Dependent on how complex the current CCTV wirings are in place, we have qualified electricians to work with us to rewire and replace faulty existing CCTV systems if required.
Most commonly, our office building customers are familiar with the positionings of where they would like their cameras placed. Our knowledgeable technicians will be able to work with you on what and how things will be done during your camera installs.
As jobs for office buildings can range from simple camera replacements to more complex wiring issues, please let our sales team know on the phone your complete brief, so our technician can quickly review your requirements before their onsite inspection with you.
We have the ability to fit CCTV cameras anywhere in the building provided the structure is appropriate for installation. We have major experience installing foyer, lift and hallway cameras. Our technicians will discuss with you the best type of camera to use for each circumstance.
All our CCTV packages come with a clear 19inch monitor to be place in your admin office or security office.
For central alarm systems and access control solutions – such as fob keys and proximity readers – these can be slightly more technical to install as requirements can vary between each customer. Please advise our sales team your requirements and we will quote accordingly for you.
Did you know there can be quite a few public liability incidences that the corporate body are responsible for outside private areas?
Common office common areas and lifts injuries include: unforeseen fire damage & burns, head injuries from slips, puncture wounds and cuts, electrocution from faulty electrical equipment, lift faults, assaults in public spaces and/or robberies.
Other notes to take into account for the installation process
While our team are trained to install our security equipment in all types of building structures, these are the common issues we encounter when performing an onsite inspection. So please advise on the phone with our sales representative if any of the following meets your situation, so we can draw up the most efficient way to install your security system with minimal time delays and disruptions to your business.
>Please let us know if you have suspended ceilings or a concrete ceiling. Also, please let us know if your walls are also gyprock or solid cement.
> If your premises do not have a manhole for our technician to perform cabling and wiring requirements in the ceiling or roof of your business, you may need to budget an extra small fee for possible conduit or external cabling requirements
> If your premises already have cabling in place from an old security system, please let us know so we can determine if the cables and wires are available for use on the new security system. Most of the time, this is possible if the structure is relatively new. If however the old security system was installed decades ago, we may need to replace all wiring to ensure your new system works effectively on new cables and wires.
What we expect from our customers:
As we take our customers seriously and value our time to serve all customers well, please do not call us first if you are simply price shopping. Our prices are one of the most competitively priced on the market for the workmanship and security equipment we use, which is why many Sydney business owners choose us to complete the job. We are open to negotiations and most often accommodate all our customer's request, as well as budget constraints. The priorities of selecting the best security company to perform your install should be based on integrity, reviews, equipment quality, labour warranty, efficiency of the installation service and efficiency of the customer service team. We look forward for you in joining our list of happy customers with our recognised service in the industry.