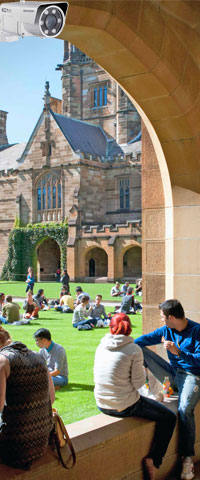 At Sydney Security Company, we are experienced in installing and servicing security systems on university campuses, school grounds and private colleges.
Different educational premises require slightly different security solutions (mainly due to the age of the students and the size of the school or campus). We know that ensuring the physical safety of students and teachers are crucial to sustaining an effective learning ecosystem, as well as, minimising potential risks and threats.

Examples of the main security threats universities, schools and private colleges may experience are:
stalkers, vandalism, sexual or physical assaults, student and staff injury claims, staff violations or misbehaviour, unforeseen OH&S accidents within facilities, threatening intruders, threatening or aggressive parents, public liability claims, suspicious perpetrators and/or unexpected violence.
There are five main security areas that your childcare centre business may need to look at closely and consider implementing at your business location.
Ready to discuss your university, school or college security options? Call (02) 8003 3356
Speak to one of our professional business consultants today. We're ready to take your call between 9am – 9pm weekdays.
Real prices and security package examples of what we have installed for our school and college customers.
Typical security installation plan involves the following:
[floorplan coming soon]
Security Components:
Depending on the size of your institution, we recommend a minimum of 4 megapixel camera quality for university campuses and large private school grounds and a minimum of 2 megapixel for schools and smaller colleges. Both will have a viewing angle of up to 8o degrees and a infrared distance of 30 metres.
Upon inspection and evaluation of our technician team, additional fixtures may be required to mount bullet cameras on electrical poles in large public spaces or conduits for multi-level structures.
Dependent on the size of your school grounds, more or less cameras will be required to cover the premise. For university campuses, CCTV surveillance are required in public outdoor areas as well as inside building walkways that are infrequently patrolled by campus guards.
All cameras are fitted to ensure school security have the ability to access up to 30 day playback footage (this can be upgraded to 60 days if your school requires longer data storage ability). This ensures you have adequate time to access footage should their need to review hazardous or dangerous events, as well as provide the necessary evidence for insurance claims.
Extra cameras can be added as required according to requirements.
Please let technicians know your school grounds monitoring requirement. While traditionally smaller schools or colleges may require only one monitor in the admin office, universities may require more monitors dependent on the number of surveillance cameras installed and who will be monitoring the recordings (whether that be individual department staff or a central security office).
With most schools and colleges, a central alarm with several individual access control units are sufficient to secure the small premise. However, for universities, our technicians will only recommend more advanced alarm systems that have access fob control integrated with the alarm function. This ensure high value areas are continuously protected and alarmed by fob security.
Other notes to take into account for the installation process
While our team are trained to install our security equipment in all types of building structures, these are the common issues we encounter when performing an onsite inspection. So please advise on the phone with our sales representative if any of the following meets your situation, so we can draw up the most efficient way to install your security system with minimal time delays and disruptions to your business.
>Please let us know if you have suspended ceilings or a concrete ceiling. Also, please let us know if your walls are also gyprock or solid cement.
> If your premises do not have a manhole for our technician to perform cabling and wiring requirements in the ceiling or roof of your business, you may need to budget an extra small fee for possible conduit or external cabling requirements
> If your premises already have cabling in place from an old security system, please let us know so we can determine if the cables and wires are available for use on the new security system. Most of the time, this is possible if the structure is relatively new. If however the old security system was installed decades ago, we may need to replace all wiring to ensure your new system works effectively on new cables and wires.
What we expect from our customers:
As we take our customers seriously and value our time to serve all customers well, please do not call us first if you are simply price shopping. Our prices are one of the most competitively priced on the market for the workmanship and security equipment we use, which is why many Sydney business owners choose us to complete the job. We are open to negotiations and most often accommodate all our customer's request, as well as budget constraints. The priorities of selecting the best security company to perform your install should be based on integrity, reviews, equipment quality, labour warranty, efficiency of the installation service and efficiency of the customer service team. We look forward for you in joining our list of happy customers with our recognised service in the industry.